Finding Clarity as a Multi-Passionate Feminist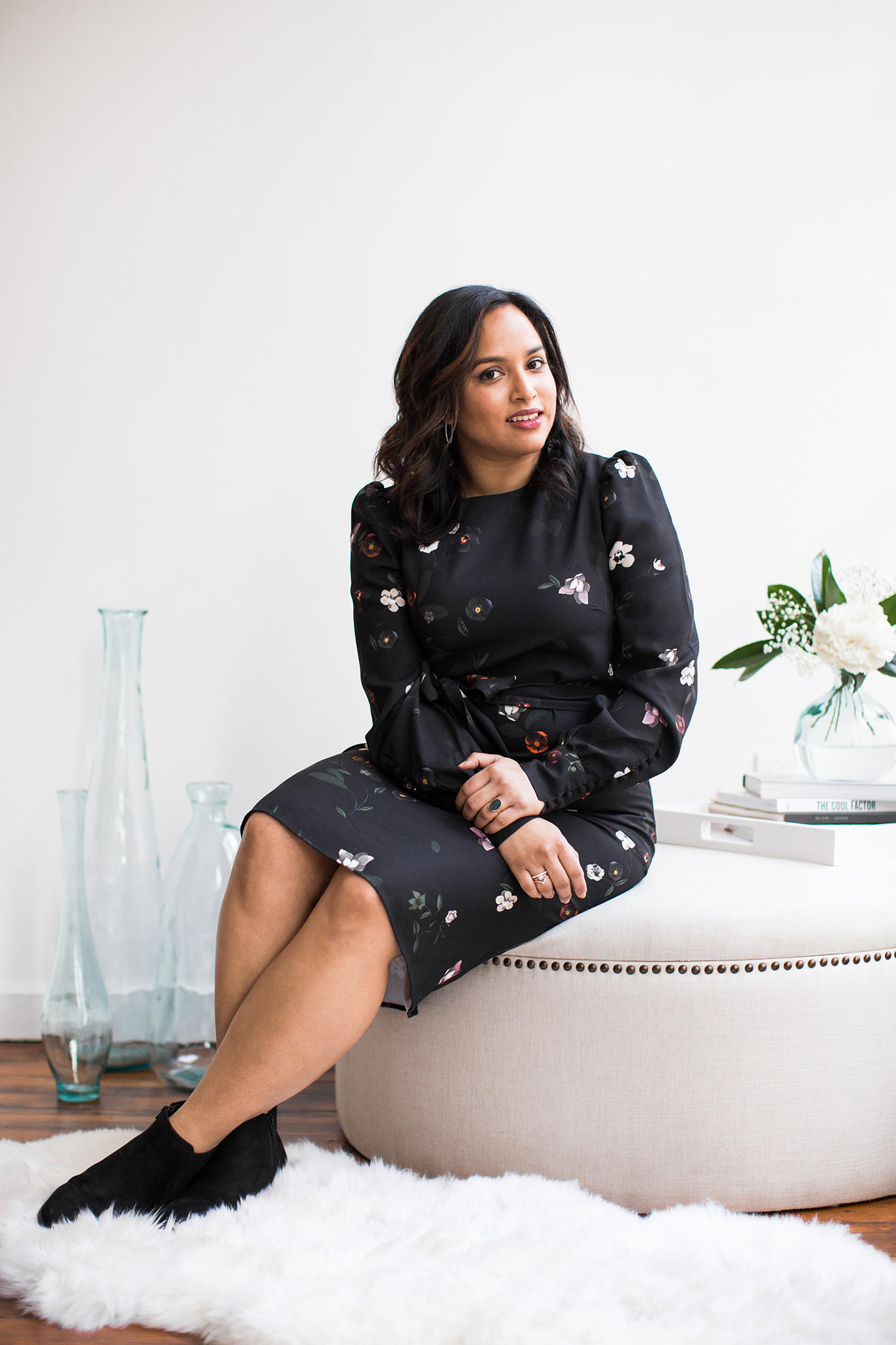 Melissa Alam is the ultimate multi-passionate, feminist freelancer.
Beyond designing websites for her clients, she's the founder of FearlessCon, a yearly conference for women who get sh*t done; Femme & Fortune, a digital platform for multicultural, ambitious women; and H$TL House, an intimate event space for creatives in Philadelphia.
You'll love this interview if you're looking for feminist tips on:
1 - Keeping your head straight as you build multiple businesses at once
2 - Staying consistent and overcoming the temptation to give up
If you want more resources on living your multi-passionate dreams, sign up here for your free 101 Resources Guide! ✨
I know that you've had several phases on your entrepreneurial journey. How did it all start, and then evolve into what you have today?
I went to college for marketing, and I worked at a few ad agencies right after graduating. I was working SEO agency here in Philadelphia. I was 22 and I thought to myself, you know, I'm kind of in my prime. I should be happier with my work, more creative and motivated. So I put my two weeks notice in, saying I was going on a personal journey. That was August of 2012, my birthday month, and I do a lot of crazy things around my birthday for some reason. That week I got my first website design client, so I saw that as a sign to pursue freelancing. I started spending hours learning how to make websites. I my own website as a guinea pig before providing anything for clients, so I just started building out my own website, working with this client, working at a Thai restaurant for side money, even handing out flyers once in Chinatown for cash. Then I started getting more clients through referrals and word-of-mouth.
I started Femme & Fortune in 2013 because I wanted to create something bigger than myself. I've always wanted to work for a magazine, but I knew I wasn't moving from Philadelphia to New York City anytime soon. So I launched Femme & Fortune. A year later, I launched The Hive, which was a co-working space for women -- the first one in Philadelphia. In that space, I launched FearlessCon as a fundraiser and epic event aligned with female empowerment and entrepreneurship. It's a 150-person conference for women and brings up speakers from Miami, Ohio, and California.
I chose to serve women because there was a gap in Philadelphia when it came to the types of female business owners I could relate to, look up to, and collaborate with. There were a lot of corporate women in suits who were older than me, and I just couldn't relate to them, because I was 22 and a minority. I wanted to create a space especially for ambitious women of color to feel motivated and inspired.
I recently closed the Hive, which was hard because that's what built up my career and put me in front of the computer screen and in front of an audience. Right after I closed it, I actually traveled to Europe. I had a one-way ticket booked to Berlin. I just ended up traveling and going to hostels with a backpack. Then I went to London for a few days, came back, and asked, 'Alright, what's next? What can I do now?' I decided to continue with FearlessCon because it was such a success.
Ready to act on your multi-passionate dreams?
You're in luck!
Click below to receive your free 101 Resources guide, filled with courses, services, and communities to help you pursue your passions as a creative founder. ⚡️👇
Now I have H$TL House, which is actually my apartment. I've created what I call a little Wakanda, a space for productivity and creativity with other freelancers. The idea came after the last FearlessCon event, when I was sitting in my apartment I share with my roommate and boxes of stuff left over from the conference. I decided I needed a space where I could work and grow a team. There was actually a new apartment building right across the street, so I used my profit from FearlessCon to invest in this apartment. I usually host workshops and small dinners in the space. Last night, for instance, we had a late night grind session. Six people came over, we all brought our laptops, and the beautiful part was that we were collaborating and connecting. Everyone left with each other's Instagram handles and phone numbers, so excited about working together. People can also rent it out for their team meetings, if they want a more creative-looking space with a bathroom and kitchen area. It's not a boring, cold, steel office space that you have to rent. And then -- I live in it!
You're really good at building community, and I know that's something that a lot of freelancers struggle with. What what's your magic when you're creating community?
When I was first starting out, I had a few other businesses that just didn't pick up or that I closed after a while. I had one called Blog Bloom, and people would sign up for a full Saturday workshop where I would teach them how to create their site. And then we'd launch it that day, so create their blog. And as part of that business, I would host coffee meetups in different coffee shops around the city and we'd talk about a different topic. So one day would be Pinterest, another day would be starting collaborations. And there were times when we'd have nine or ten people show up, and then times when no one showed up. You have to be okay with the successes and failures of community-building and stay consistent with it. I started small, and that led to all these other businesses growing off one another.
What does building a feminist business mean to you?
It means being very, very open and very strong-willed when it comes to staying consistent and keeping the messaging going. There have been so many times where I wanted to quit and keep freelancing behind-the-screen instead of hosting my conference. But the energy that happens at Fearless conferences is just amazing. And there've been so many friendships and even businesses launched after that conference, that it reminds me why I'm doing it. We need spaces where women and non-binary folks can feel comfortable sharing their ideas, reaching out, and asking questions.
The key is seeing everyone as a partner instead of a competitor. For instance, Brazen Philly and HerCorner came launched in Philadelphia and could have been seen as competition for Femme & Fortune. But I wanted to support them, so that's what I'm doing. The more the merrier. I think that we need more spaces for women to feel comfortable, especially in such a male-dominated startup scene. So I think the key is to collaborate and to support one another when you can, and that can even be just showing up at events and mingling with one another.
I love that advice. For freelancers who have also felt the impulse to stay behind their computer screens, what advice would you have to get over that networking fear?
Go with a friend. I go to so many events where I can become such a complete introvert, but going with someone else is helpful. When you have a partner-in-crime to make things a little lighter and less awkward, you're not just standing in a corner with an empty champagne glass. So go with a friend, and don't be too salesy. Show your personality instead. People would rather buy from other people than buy from a brand. I support my friends first and their business second. So get to know people on that level.
And have fun with it. Try and take things outside of the event. What I like about Philly is that I might meet someone in a professional capacity, and we end up going out for drinks or hanging out at my apartment, watching a movie, and becoming actual friends. It doesn't have to be just professional all the time. You can actually create true friendships and grow them. It's hard to be an introvert and try to network, but no risk, no reward.
Some of my readers feel like they're on a hamster wheel, specifically with money. They'll find a client and then need to find a new client and they don't know where that person will come from, etc. What guidance could you give somebody who's in that situation to really start building out these assets like you've done?
I'm a big believer in growing your personal brand, being your best cheerleader, and sharing your work on social media. Share your journey, the behind-the-scenes of you sketching those logos or creating that hat you're knitting. That's so important, because if you don't tell people what you're doing, they're not going to hire you. That also goes for when you introduce yourself. In your bio, you need to have the key points: what you provide, who you provide it for, and what solution you're creating for that person. Do an audit on social media and connect with local networking groups filled with people who don't only support you, but also purchase from you.
Money for me has been a huge thing because I didn't grow up with a lot of money. That's kind of my motivation for being an entrepreneur. Honestly, I don't want to be poor. I don't want to have my family or my kids not have anything but the best from my hard work. I started these businesses with that intention. So if something wasn't working, I'd figure it out and change it. So for me, I was making websites and first I was asking for 50% upfront and then 50% once the site is done. Well, some of the sites will take months. So I switched that model into a retainer to help with my process of managing clients. When that original payment is split up into three months, and I invoice on the first of the month, then voilà, I start to make rent. Understanding the processes and the structure of your business is really important.
What's the best way for readers to support you and your work?
The best way is to follow me on Instagram @ringthealam because that's where I put all my new businesses and ideas up first. And then FearlessCon is from September 29-30th, here in Philadelphia. Early bird tickets are already on sale $199!
Ready to act on your multi-passionate dreams?
You're in luck!
Click below to receive your free 101 Resources guide, filled with courses, services, and communities to help you pursue your passions as a creative founder. ⚡️👇