What This Feminist Writer Recommends to New Freelancers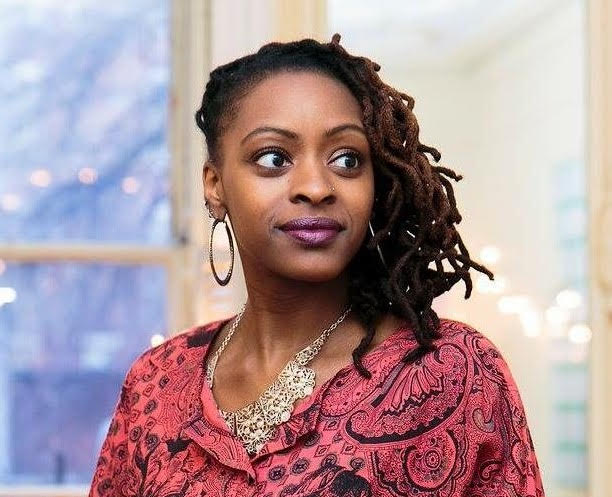 Carla Bruce-Eddings is a Senior Publicist at Algonquin Books and freelance writer living in Brooklyn. She writes about the intersections of motherhood, race, and pop culture for outlets including The Cut, Romper, LENNY, LitHub, and McSweeney's. A voracious reader, she's also a books editor at Well-Read Black Girl.
Read on if you want her advice on:
1 - Pitching your ideas to editors
2 - Integrating feminist topics into your writing practice
3 - Balancing a full-time job with your freelance writing goals
How did you get your start as a freelance writer?
I've always loved writing and kept journals, but I didn't really understand that I could continue this hobby into adulthood and get paid for it until my mid-twenties. I thought that I either needed to have a journalism degree or have written for my college newspapers in order to make it a legitimate side gig. I followed some writers online that I deeply admired, like Ashley Ford, Hannah Giorgis, and Akwaeke Emezi, but eking out my own path and voice was essential before I had the courage to actually submit my work anywhere. I was a huge fan of The Toast and thought the writing there was always so delicious, poignant, and exactly what I wanted and needed to read at any given time. I was so honored to have my very first paid piece published there.
What has helped you improve your writing most since you started out?
Reading! Reading, reading, reading. I have the app Pocket and am constantly saving articles to it so I can go back and read or reread them later. I'm a book lover, always have been, but there are certain books or series I return to when I'm feeling stuck or uninspired: Sylvia Plath's diaries, essays by Audre Lorde, poetry by Morgan Parker. I once challenged to myself to write something every single day for 100 days. It was kind of terrible, but I learned a lot about myself, my rhythms, and the best uses of my energy. I strongly believe in pushing myself, but now I know that too much pushing will just stress me out and my writing suffers for it. Finding a balance is an ongoing struggle, but relinquishing guilt is essential. For me, guilt just feeds creative paralysis.
Given that you're both a book publicist and writer yourself, how do you balance these two acts?
I think they actually complement each other pretty well. I feel so fortunate that first publishing position -- and my new one! -- was and are at imprints that put out the kinds of books I already read, and introduce me to authors and works I didn't know, but now love. It's incredible to be able to peek behind the curtain at all that goes into publishing a book, and work so closely with these stunningly talented artists as they undergo the bone-chilling process of introducing their babies to the world. Truthfully, it's made me a little wary of writing a book! But also given me enormous respect for the process. But beyond that, I'm happy to have the stability of a full-time job while I carve out whatever time I can to write. My writing schedule is not fixed or consistent in any way. Maybe when my daughter is older, I can make it a bit more regimented. I set long term goals that leave me room to space out my pitches the way I need to so that I don't lose my mind. It's a fine balance between being satisfied with the amount of writing I'm doing and feeling motivated (to put it...mildly) to do more. Mostly, I just try to make sure I'm getting rest and spending time with my daughter. I let things fall into place after that.
What were your fears when you first started to write online?
Wow, so many! I was scared that people straight up wouldn't like my writing. Worse, that they wouldn't like it and feel the need to tell me about it. That I would overshare -- a fear I sometimes still have with personal essays. (I've been really lucky to work with some amazing editors who push back and ask uncomfortable questions!) I've had to unlearn a lot of my insecurities around not sounding exactly like Person A or Person B, because it's literally impossible for me to be anyone but myself, and furthermore, there already was a Person A. Duplicating them is not a worthwhile or productive goal. It can be hard to feel confident in yourself as a writer when you're constantly reading amazing work from other people. It's something I still struggle with. But mostly, I feel immensely grateful for other writers with larger platforms, because they're not shutting me out, they're widening the room, making space for others with something to say.
What are some important things for writers to remember if they're addressing feminism specifically in their work?
I think it's important for you to have a clear definition of what feminism means for you -- in general, but definitely also before you write about it. And the best way to determine what that definition is to read, read, read. Read works from decades ago, not just contemporary literature and nonfiction. It's the best way to challenge your own fast assumptions and expose yourself to different points of view that may complicate what may have seemed relatively cut-and-dry. Talk to people whose opinions you value about your ideas -- beyond Twitter! Remember that words have meanings. Be concerned with their meanings.
Where did you learn how to pitch, and what tips can you share?
For each new editor or publication I pitch, I do some research into their pitching preferences beforehand. It's pretty much foolproof. Most editors these days make it very easy to find exactly what they're looking for. I've also taken classes with Catapult and gone over best pitching practices with my instructors there. My best advice would be to always get a feel for the publication you're interested in pitching, and learn a bit about the editor/s too. Ask a more experienced writer friend (actual friend, not friend in your head!) for a second pair of eyes before hitting send. There is never any shame in asking for help. You can only make a first impression once.