Why This Business Coach Believes That More Women-Led Businesses Mean a Healthier World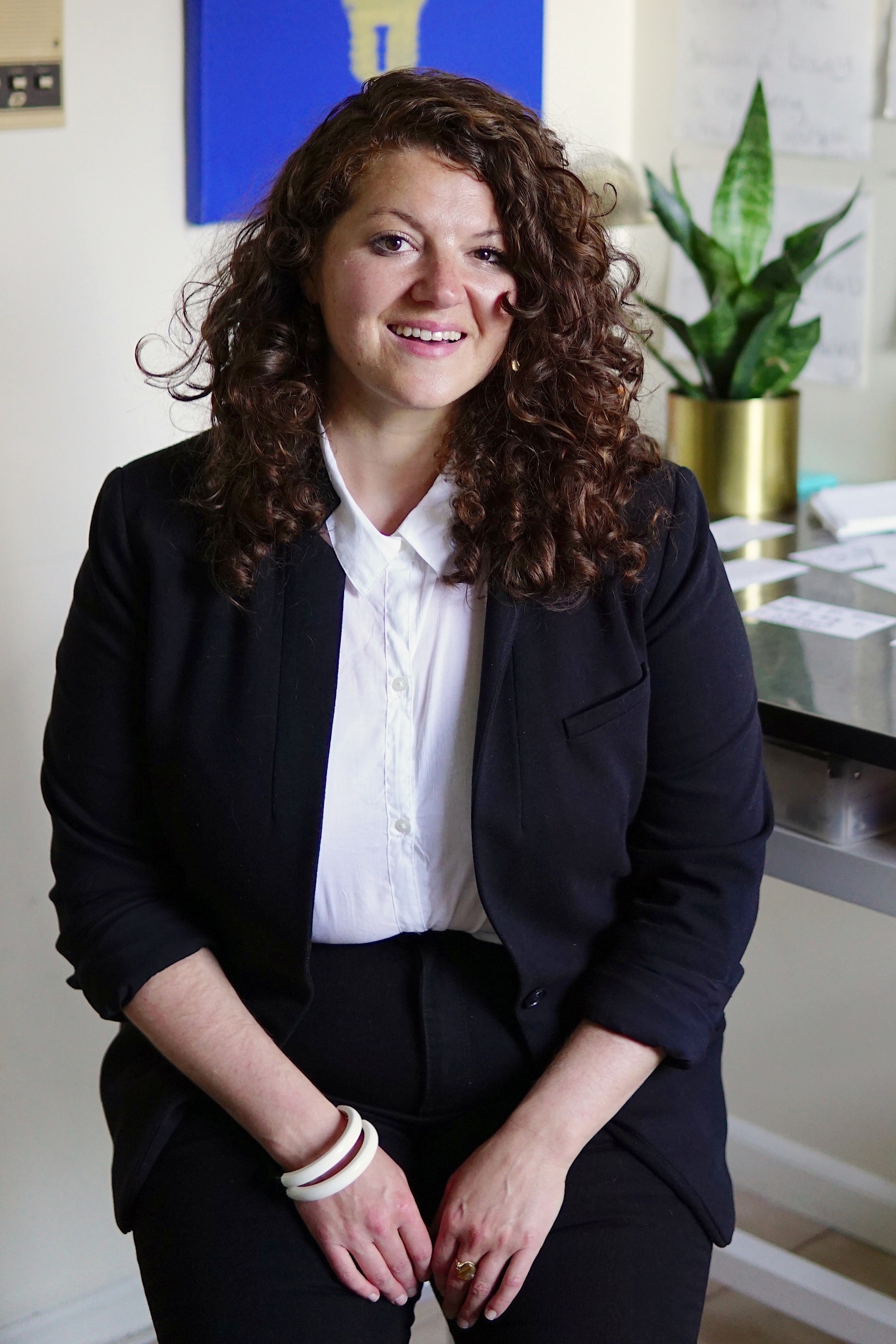 Alison Gilbert, founder of business-strategy consultancy Project AG and media platform The Big Whisper, is a pastry chef turned COO turned business strategist and advisor. Alison is passionate about helping emerging women entrepreneurs build thriving businesses that in turn fuel economic growth and cultural health.
Prior to building Project AG and The Big Whisper, Alison was hire four and COO of food media company Tasting Table where she helped grow it into a forty person, multi-million dollar business reaching a readership of millions. To date she's helped 65+ entrepreneurs and businesses across commerce, media, tech, design and fashion successfully scale.
Read on if you want Alison's advice on:
1 - Focusing on the short-term before getting caught up in the long-term
2 - Building a business that balances profit and purpose
3 - Tapping into your intuition to better understand your business strategy
Photo credit: Seth Cerrate
Stephanie: Why did you decide to become a business strategy coach, focused on female entrepreneurs?
Alison: When I was COO at Tasting Table we hired a lot of incredibly strong women. But, I noticed, oftentimes when a woman on my team came over to my desk to ask a question she would start by saying "Sorry." It was a polite sorry to indicate remorse for interrupting. But the fact that that language was involuntary bothered me. That was the seedling for what would eventually reveal itself to me, as I got more involved the startup world, just how much women experience limiting beliefs about their abilities. These limiting beliefs start with invisible, seemingly benign language like "I'm sorry." These women just had a question, though. Nothing to be sorry about.
Women have more systemic and social barriers to overcome that make their entrepreneurial start and journey more challenging. Women represent 45% of the labor force, yet only 11% of women are entering into entrepreneurship. And of the women running businesses only 4% of women-run businesses are generating over a million dollars a year. We need to change this. When we have more female-led businesses that thrive we will have a healthier world.
What was it like transitioning from pastry chef to business strategist?
After I had been a pastry chef I joined a food media company as the fourth person where I worked on the business side of things. That's where I got bit with the new-business, start-up bug. The evolution was pretty organic. I see a through line, though: pastry cheffing and building a business are both art forms. Cooking is a way of connecting with others through the expression of what you make. Business is the same thing. It's developing something and connecting with others in the expression of offering that product or service with the world.
What are some common challenges that you see entrepreneurial women face as they scale their side hustles and early-stage businesses?
One of the most common themes I see with the women is trusting themselves and their instincts.
The women I work with know their strategy intuitively, whether they realize it or not. They have the answers inside themselves. My approach is to ask a lot of questions. The questions I ask helps push my clients to articulate more explicitly for themselves the strategy and vision they already have inside them.
So many of the resources and articles out there about building a business are prescriptive. But the truth is there is no "one-size fits all" way to build a business. That's why so much of what we do at The Big Whisper is geared toward providing the guardrails and asking questions, versus delivering prescriptive advice, to help women build businesses in the way that's right for them.
What are some challenges you face as an advisor and coach?
I joke, but, of course, there's truth in jest, when I say that I need a me for me!
When I work with an entrepreneur, I invest heavily in truly getting to understand and know that entrepreneur personally, just as much as I invest in understanding their vision for their business. My main focus is to listen for not only what she's telling me explicitly about what she wants for her business. I also listen for the note behind the note, what I sense she's trying to say but hasn't quite gotten to a place with herself yet to articulate. I ask follow-up questions to help her get there.
So many times a client will say, "Wow, this feels like business therapy." I push my clients a little farther than they'd naturally go to push themselves, even when they may not 100% feel like they're ready.
There are definitely times in my own entrepreneurial journey where I wish I had that kind of support for myself!
What's your #1 tip for building a financially and emotionally sustainable business?
Focus on progress over perfection.
The path to a thriving business involves pushing ourselves to put things out there just a little bit sooner than when we feel ready. It's easier said than done, I know, but the sooner we get things out there in the world, the sooner we get feedback, which will enrich what we're creating, and, ultimately, help us progress faster.
What advice do you have for other multi-passionate women looking to become their own boss?
Oftentimes I see founders at step one looking at step 10, worrying about the future. Vision is helpful and grounding, but it's also anxiety-inducing when there are still steps that need to be taken to get there. If you focus too much on getting to step 10 without focusing on the next step in front of you, you'll get stuck in analysis paralysis and won't go anywhere. Let your vision and future ideas ground you. Trust where you are, and trust where you are going. Get a good enough sense of step 10 and then focus on step two. Anchor yourself in the confidence of your future; keep chipping away at the present.
What does having a feminist business mean to you?
I'm very much of the Zebra business philosophy. A feminist business to me is one that balances profit and purpose, champions democracy and puts a premium on developing a product or service that is a win-win for who are you creating it for. We need to move away from the bottom-line, earth-depleting business practices of the last hundreds of years and focus on building products and experiences that provide true value to someone and that are regenerative, rather than depleting, to the environment.
What is your vision for The Big Whisper?
I created The Big Whisper because I didn't see a media outlet out there that covered topics that resonated with me in a deeper, more substantive way as both an entrepreneur and as someone who seeks an overall fulfilled life. My vision and mission for The Big Whisper is to share learnings, strategy tools and resources, and make connections to inspire, support and help the rising generation of female entrepreneurs build thriving businesses in the way that's right for them. I want more women to think bigger and build bigger.
How can readers support you?
Contribute to our crowdfunding campaign! We have rewards that support women entrepreneurs and we have rewards that provide access to our membership platform. I'd be so grateful for *anything* you'd be able to contribute. With the money we raise, we will be able to create more quality content and improve our membership experience to provide women the tools and support they need to build thriving businesses.
***